PENDULUM
Terry Ekasala & Zara June Williams
9-25 May 2019
PIERMARQ*: When/how did you get into art?
TERRY EKASALA: I got interested in drawing at a very young age. My cousin and I would visit my grandparents on our school holidays and my grandfather would have us copy the funnies from the Sunday paper, then he would critique where we may have gone wrong. I grew up in the Restaurant business; there were 4 siblings and we would usually eat right at opening time at a table in the corner of the dinning room. To keep us quiet we would draw on placemats. My slightly older brother Marc and I would pick a subject (for a while it was always ships), have my parents judge our drawings, which one is the best? My father always said Marc's was because he was older! (I'm talking 9 or 10 years old!) I got really into perfecting my drawings and I never stopped!
P: You've lived in Vermont's Northeast Kingdom since 2001 – has this changed your style/development as an artist?
T: Yes, I have definitely been influenced living in this pretty remote area with extremely beautiful landscapes. For sure I wouldn't have been able to live in such a remote place when I was younger. I needed to get my ya ya's out (to quote the Rolling Stones) first. The city was good for me for many years. Now I have settled into this land and it sort of keeps me close like the pull of a magnet. For the most part my paintings are abstract but I detect a bit of landscape-ish quality to them, especially in this recent body of work. In any case I hope the peace and beauty of where I live seeps into all that I do!
The studio of Terry Ekasala in Vermont's Northeast Kingdom, USA.

P: What exhibitions/artists have left a strong impression on you and your development as an artist?
T: There are so many through the years. Picasso and Matisse are two main influences who have been constant. In my early 20's, after the contents of my friend James' car was stolen in front of my first studio on Miami Beach, we scrounged up some cash (this included borrowing my brother's jar of change) and headed toward north Florida to visit a friend. Well, as we approached and we saw signs like '1000 miles to New York', we talked ourselves into going the distance! This was 1984. I won't go into the details of this trip but this is where and when I was exposed to the many new young American rock star artists such as Julian Schnabel, David Salle, Cindy Sherman, Nan Golden, Robert Mapplethorpe, Basquiat… It was definitely a mind-expanding trip that educated me.

A year later I saw Miguel Barcelo's first solo show in the US at the Contemporary Museum of Art in Boston. This show was a major influence on me, not only did I love the work but he was not much older than me! It really pushed me to get more serious with my own work, I think this was when I decided I wanted "to be" an artist, even though I had already been seriously painting for a few years and it would take many years for me to actually call myself an artist! Years later while living in Paris I had the pleasure of meeting Miguel and visited his studio on many occasions.
P: What does 'painting' mean to you?
T: It means beauty and emotion. Looking at paintings gives me sensations (good or bad) that nothing else does. Nature, sculpture, music… they're all amazing for different reasons, but painting is something that really touches me. It makes me grow, it is never ending. I'm talking about looking at other artists' work through history; what I didn't feel a year or so ago, I may find fascinating today! With my own practice, I love working myself into that place where something else takes over. It's a sort of meditation that can be so satisfying and when you're off it can be quite the opposite, but its always educational!

P: What is your starting-point with a new painting?
T: I don't generally have a real plan of departure except loosely laying on color. If I have been in the working flow, with consecutive days in the studio I sometimes tend to feed off of what I have already begun on other pieces as a base; I like the idea of a sort of "series" but I am very apprehensive about copying myself! Many times when I start a painting I am loose and free and come to a pleasing image too fast. Too fast because there may be missing components like texture, the skin of the painting, so I have to take it further. Sometimes I really wonder if I lost the recipe! In any case I really have to be willing to sacrifice some good aspects of the work to get on, to keep learning something new.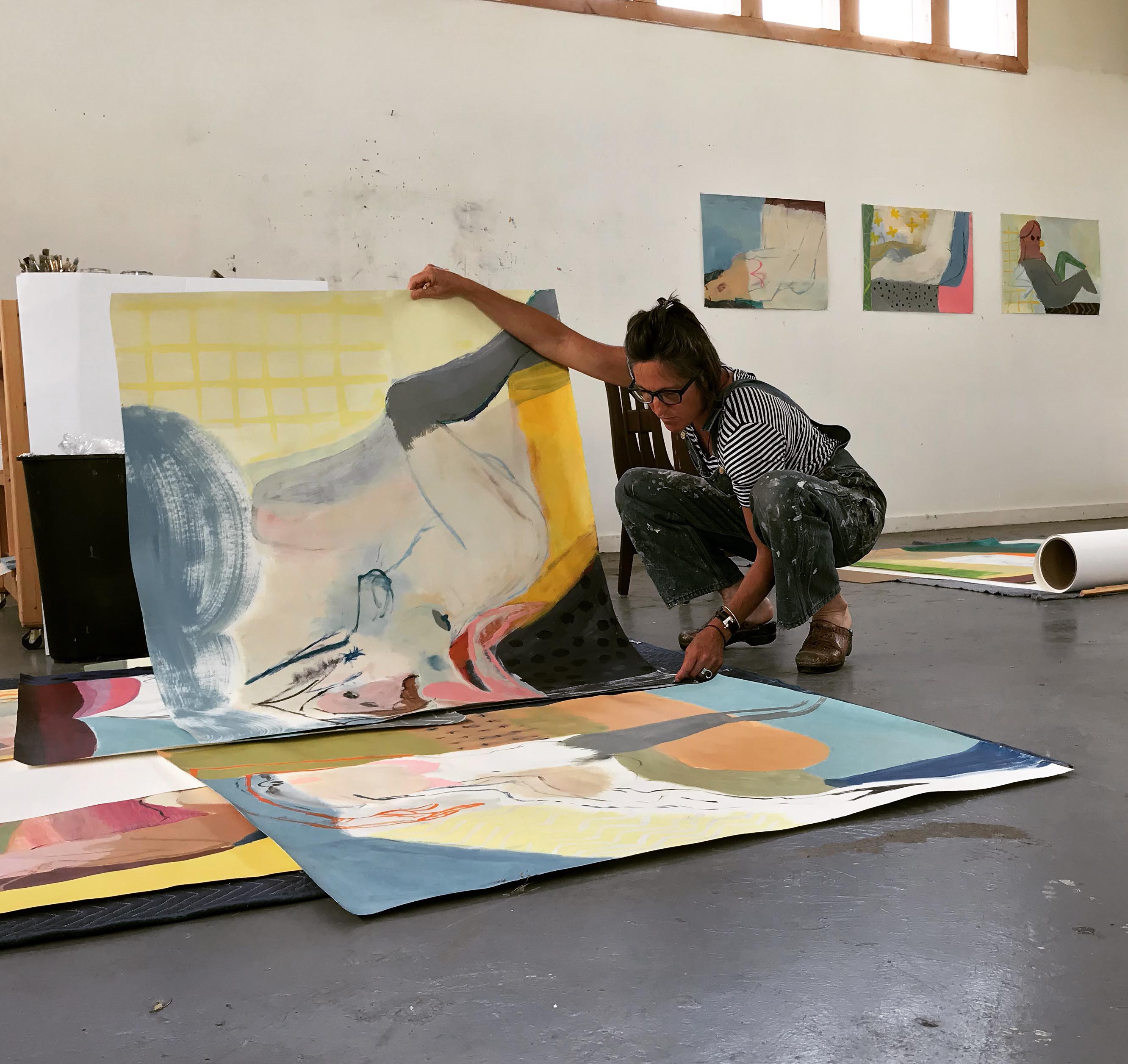 Terry Ekasala in the Studio.
P: In 1987 you moved to Paris and were involved in the first artist squat to become legal in Paris! How long were you there for and how has this time in your life influenced your art?
T: I lived in Paris for 14 years. I was 24 when I moved there and it has had entire worlds of influence on my art! The city itself, the French culture, this intwined and inseparable art infused place allowed me to be exposed, not only to French culture but all of Europe and beyond. I was so fortunate to be part of the Forge artist group at that time and meet so many artists from all over.
P: Lastly, what can we expect from your work in Pendulum?
T: I am so pleased to be invited to show at Piermarq and in Australia. I was definitely prompted to get started on all new work. These paintings were done with this show as their destination so you can expect a feeling of HAPPY, I hope!
Please join the PIERMARQ* team and the artists on Thursday, 9th May from 6-8pm, to celebrate the launch of PENDULUM - Terry Ekasala & Zara June Williams.
5 April 2019