PENDULUM
Terry Ekasala & Zara June Williams
9 - 25 May 2019
PIERMARQ*: When/how did you get into art?
ZARA JUNE WILLIAMS: I have always dabbled in some form of art making, but it was a while before I allowed myself to take it seriously. I was led to consider art school when I became quite frustrated with certain habits of making that I felt I could not escape. The National Art School provided exactly what I was after and more. It tore apart the faulty foundations I had laid down for myself and encouraged me to build up from scratch.

P: What exhibitions/artists have left a strong impression on you and your development as an artist?
Z: There are many artists to whom I owe a big Thank-you. Here is a shortlist.
Helen Frankenthaler, for working on the floor and for lessons in colour and form. Howard Hodgkin, for his ruthless treatment of the frame. Dieter Roth, for his celebration of detritus and the remnants of making. Tony Tuckson, for demonstrating creation through destruction. Mary Heilmann, for being a total chiller and for making some really good but also really bad paintings. Jessica Stockholder, for recognising the potency of 'thinking through making'. Jenny Watson, for her painfully honest and wonderfully absurd creations. Karen Black for her 'blobs' which unite palette with painting. Patrick Hartigan, for his recent show at The Commercial in Sydney, it was a killer!

P: What are the core concerns of your practice?
Z: Within my work is an ongoing search for balance between chaos and control. Finding ways to welcome elements of chance without jeopardising the efforts of my subjectivity is core to my practice. More broadly, ensuring that each work is made from a place of genuine curiosity is paramount.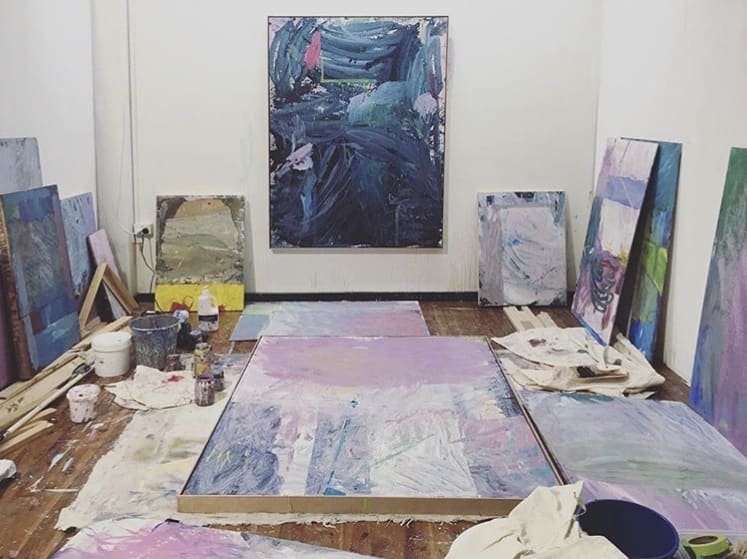 The studio of Zara June Williams, 2019
P: What does 'painting' mean to you?
Z: Painting means surrendering to an endless pursuit of something that can never be completely grasped. It is simultaneously frustrating and exiting to know that the game is ongoing.

P: Moving between purposeful and accidental actions seems imperative to your work. Do you have some kind of methodology that allows you to achieve this so authentically?
Z: I set certain parameters to work within in order to harness chance events, whilst ensuring that my subjectivity is not completely extinguished. Generally these rules restrict my ability to see the entire composition I am working on, or they determine the physical position from which I have access to a work.

P: What is your starting-point with a new painting?
Z: It takes some time for each surface to accumulate enough material before it is complete. I often begin on the floor, working upon overlapped sheets of board. At this point I am not attempting to achieve any particular composition, but rather break the surface and create something that I can later respond to. Eventually individual sheets are uplifted from the pile, in a process that feels much like an excavation. I then work with existing compositions, or obliterate areas entirely. When pieces are not working, or appear too contrived, they are surrendered back to the floor. I continue to work in this cyclical nature for some time.

P: What was the most beneficial thing that you learned whilst studying art?
Z: I am very lucky to have been able to spend the past five years at the National Art School. It is a wonderful place full of excellent individuals who are whole heartedly committed to what they do. Throughout my time there I learnt how important it is to be self critical. I learnt how to recognise when I am holding onto an idea or a way of working for the wrong reason and how to be ruthless and destructive in order to gain clarity and perspective.

P: What can we expect from your work in Pendulum?
Z: Most of these works came about by re-working boards that I have kept in my studio for the past two years. Each surface holds an accumulated mixture of intentional mark making and remnants of studio action. In a way these works feel like an ode to what has been a hugely transformative past couple years.

P: What else do you have lined up for the next year or so?
Z: From July to September this year I am due to be involved in a residency at Pilotenkueche in Leipzig, Germany.


5 April 2019